Who is The Franchisor Coach?
The Franchisor Coach is a franchise development outsource contractor focused on providing help to emerging, start up and growth stage Franchisers, Master Franchise Licensee and Franchise Area Developer develop their business, solve their franchise development challenges and push their successes with the help of a franchise coach.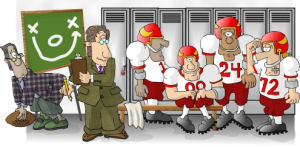 Our goal is to develop your organization until you are ready to be self sufficient.
Most young franchises have the same needs as mature concepts but not the business load or critical mass to justify a full time director of franchise development, marketing, sales, operations, training, real estate, etc. The same requirements are often needed for those concepts that are undergoing strategic growth and expansion or that may even be in decline.
The Franchisor Coach team has unique perspectives whose Franchise experience includes franchise ownership and working directly inside with start up, emerging and mature concepts like Century 21, Cendant, Case, Prudential, Help U Sell RE and CT Franchising Systems. We are Entrepreneurs, having owned and worked in Entrepreneurial businesses including Insurance, Law, and Home Services spanning sales to operations to customer services.
We relate. Our experience includes starting businesses from scratch so we understand the challenges involved with the upfront heavy lifting as well as the efforts involved in pushing the business forward through various growth stages of decision making and investment requirements.
We are disciplined in franchise sales, operations, branding, compliance, real estate, marketing, customer services, risk mitigation and event planning.
Essential to our active approach is experience and being polished and nimble. There is a huge difference between academic excellence and what really works. We have practical small business experience owning and operating franchised and non franchised businesses over the past 35 years.
Preserve your capital, mitigate your risks, free up your time and Out-Source your Franchise Development needs to The Franchisor Coach, an Entrepreneurial Team of Business Professionals with "real" Franchise Development experience.
We are your Professional Franchise Outsource and our goal is to develop your organization until you are ready to be self sufficient.
We don't just consult, we act. To learn more, call us now for an appointment at (618) 406-2065, or Email us at .